Look at a world through an assassin's eyes in The Assassin's Blade
A sixteen-year-old girl struggles to navigate her life as an assassin once she begins to question her allegiance.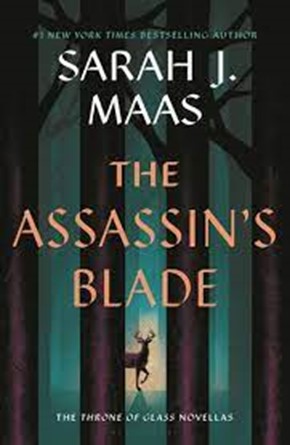 The Assassin's Blade is a book that contains five novellas. It's the prequel to the Throne of Glass series, but the order of which you read the books is up to you (to a certain degree). Celaena Sardothien's story begins with The Assassin's Blade and gives much needed insight for farther books. Celaena Sardothien is heir to Arobynn Hamel, king of assassins and ruler of the Assassin's Guild. He has been her master for years. Celaena's life isn't hers and with the help of a fellow assassin she begins to question whether she wants this, or if she has a choice.
The five novellas in The Assassin's Blade build upon one another. Some characters cross over and shows Celaena in different settings and situations. Celaena is very arrogant, but her true personality manages to shine through despite the cruel persona she has forced herself to show for Arobynn Hammel. The stories within The Assassin's Blade are action packed and full of necessary information for later books.
Sarah J. Maas has written three series: the Throne of Glass series, A Court of Thorns and Roses, and Crescent City. She also has one standalone book called Catwoman: Soulstealer. Maas started writing Throne of Glass when she was sixteen years old and continued writing the book through her college career. It took her several years to publish the first book, but Throne of Glass was published in 2012 and The Assassin's Blade a year later.
There are a total of eight books in the Throne of Glass series. Seven of those eight books follow the point of view of Celaena. One of my favorite things about this series is Celaena's character growth and how much depth she has. Throne of Glass shows the hardships and relationships of Celaena's life.
Technically, The Assassin's Blade doesn't have to be read in this series, but I highly recommend it. I wish I had started the series with The Assassin's Blade since it explained how she got where she was in Throne of Glass. The Assassin's Blade contains a lot of information about characters that make appearances throughout the series and cities that are explained more in depth later.
One struggle throughout the series is finding out how everyone and everything connects. For example, Rolfe is a pirate lord in The Assassin's Blade who doesn't reappear until several books later. There are several more characters like this and many of whom just have their name mentioned. Every detail is important to the storyline in one way or another.
The writing style in Throne of Glass and The Assassin's Blade are very different. The writing throughout all of the Throne of Glass books changes significantly. The first few books are written as if it is aimed at a younger audience, but with very dark topics. The writing style improves throughout the series, but starting with Throne of Glass is difficult because of the simple writing style. This is one reason why starting with The Assassin's Blade is a better choice, it gets you involved in the story, and you will want to stay for more. One explanation as to why the writing style changes may be because the series started out when Sarah J. Mass was young. It was the beginning of her career, and she had a lot of room to grow.
In personal opinion, Celaena is one of the best female heroines I've read. Her femininity isn't used as a weakness but as a strength. She uses her beauty as a weapon and acknowledges how other people will see it as her weakness. Celaena also experiences realistic struggles and relies on only herself.
The Assassin's Blade is the best way to start the Throne of Glass series and is worth the read.