Argo's first female state wrestler in over a century
Michelle Kioltyka made history at Argo Community High School when she became the first female wrestler to go to state in the sport's 100+ years of operation. This isn't something easy to do, especially considering the small amount of girls on the wrestling team. I interviewed Kioltyka to share her thoughts and experiences on this.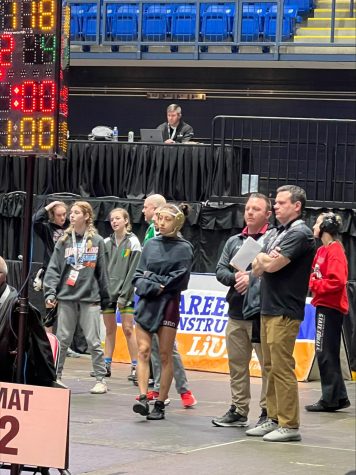 The following conversation has been edited and condensed for clarity.  
Congratulations on being the first female wrestler to go to state! What was the outcome of that? 
It was very good. I didn't place as high as I wanted to, but it was a good experience. There were a bunch of girls there as it's becoming a lot more popular. My coach said that there were about 400 girls last year at their first-ever girls' state final. This is their second year, and they have about 3x more than that.  
Because of all those girls being there, how did you feel? Intimidated? Excited? 
It was kind of a mix of both. There was a bunch of buff girls in my weight class, which made me go like, "Dang,". I felt kind of scared because you don't know how good they are. You would need to see their records to see how many matches they've won or lost. But all that really matters is how good you are and how you use that against them.   
How do you feel about having made Argo history?
It still hasn't hit me yet. I'm still shocked about being the first ever girl, but also honored.  
Was it ever a set goal to have achieved this? Did you think you would have gotten to this point? 
No, I honestly didn't think it was going to be this long of a season. It first started off with the first ever girls conference for wrestling in my division, so I was just proud to take apart of that and place first. I just kept going and I'm glad I stuck around and put forth effort every day. 
When did you start wrestling? 
My very first year doing wrestling was last year, my junior year. 
Why did you get into it? 
My mom has asked me the same question and I still don't know the answer to it. I think it's because my uncle wrestled all 4 years in high school and made it to state. But also, I think it's because since it's a male dominated sport I thought "why can't girls do it too?" I even emailed McMurray himself when I first started out, asking if girls could join. He said yes, so I was like "Why not?". 
Are there other females on the team? 
Yes, there are other girls on the team. However, when I joined, me and Christy Pedersen first joined together on our own.  
Would you say that the biggest challenge you faced was a mental one rather than a physical one? 
It definitely takes its toll physically and mentally. I had to watch what I ate and along with losing a match, that took a mental toll on me. In the end, I knew what I had to fix. And I took it as a learning lesson each time, win or lose.
Will you continue doing this sport after you graduate? 
I'm considering it. I do want to, but the university I'm choosing doesn't really have a program for it. I'm thinking about bringing it up to the administration and see if they could get something going.  
Do you have anything to say to people who would want to join? 
Try it. I feel like it should be open to everybody. So many girls are scared about it and I do see why it could be intimidating, but as I always tell the other girls, go and try it. If you don't like it, then you don't like it. There's no harm in dropping out, but you could stick around if you enjoy it. It's a really good work out and even if you feel weak the next day, it's proof of all your effort that's going to eventually pay off. It's a good experience. Girls shouldn't be so scared to do it just because there's guys on the team. If we make wrestling bigger, we could have a separate girls wrestling team which would be awesome. It would be such an accomplishment from having two girls from when I started, to having a full team. Also, don't let it beat you down too hard. As coach McMurray told me: "You shake your hand with the dude on the mat and whatever happens in between that time on that mat, win or lose, the sun still rises the next day."