Argo students have complaints about off-campus activites and exam materials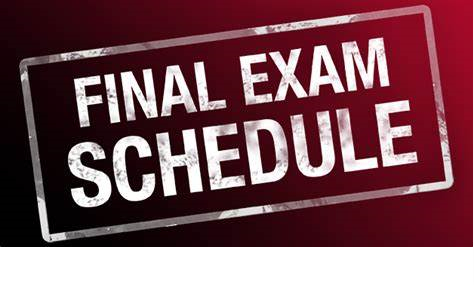 While finals have passed for students here at Argo Community High School, there have been some complaints about off-campus requests and activities.  
 After four months of learning the path to new classes and meeting new classmates, while also being introduced to more classes and more academic opportunities, it all came to a halt in a three-day period from December 20th to the 22nd.  
"It was pretty easy but I was just stressing. Taking in all the questions and the time period, considering how long it was going to take," says freshman Oscar Camarillo.  
The students were in a three-period schedule for the first day and the rest, two-period stretches. The first day consisted of periods 1, 7, and 5. The second day consisted of only two periods, those being 2nd and 3rd. The final day was periods 6 and 4.
While some students finished their three-day stretches and went into their Christmas break satisfied, some are complaining about their want of off-campus activities.  
This mainly came from the long periods of time with nothing to do, especially lunch periods. For finals, lunch periods were extended to an hour and a half. This put students in a complaining position, noting that they wanted to have lunch off campus or at least bring food from outside of the school and then come back. 
Now, Argo doesn't allow any off-campus activities. Not even a five-minute walk. An example of this is Talerico Martin Bakery, a bakery shop that is right across the street from the Summit school. 
This problem occurred recently, before an away game for the Argonauts basketball team.  
Some students, who shall stay anonymous, exited the entrance of the Swanson Gym to walk to the bakery. Keep in mind, it's a one-minute walk. Quick, and easy. 
 
They returned about ten minutes after, most likely due to the capacity of the bakery. But when they returned to the doors of the Swanson Gym, one of the staff members ordered them to go to the Fieldhouse entrance to return into the building. 
 Fortunately, the Fieldhouse entrance was a corner around the Swanson Gym. This situation is an example of how strict Argo is with off-campus activity.
Another example occurred during the last day of final exams. Marcos Cervantes, another freshman student was getting tired of sitting in 6th period lunch. To his surprise, barely anybody showed up.  
Most of the students who had 6th-period lunch didn't bother showing up considering it wasn't a requirement to attend the period. Most students came later to school during 4th period without any repercussions.
Cervantes, in a deserted lunchroom, wanted to go to the Dollar Store that was also near the school. He made his way to the front entrance to ask the people who worked there.  
He knew that Argo had strict limitations but wanted to give it a try since his lunch period was over an hour long.  
And without fail, the front entrance worker denied his request.  
"I feel like they're too strict, to be honest, and they have to lower their rules and regulations if they want to actually have people enjoy it," he says, continuing about the limitations of Argo's freedom about off-campus access.  
Now, one of the reasons for denying off-campus access is the responsibility aspect. Cervantes expressed that one of the workers told him that the reason they do not allow off-campus access is because if something were to happen to one of the students, the blame and responsibility would be held to their name.  
But shouldn't that belong to the student who exited the campus? It's the same as a parent dropping off a child and leaving the campus. If something happens to them, it's their responsibility.  
But since they went in and out of the school, does that mean that Argo should be punished for it?  
It's a question most students alongside Cervantes have, and we have yet to have our curiosities answered.  
This has been Bryce Barnett, writer for the Argo Maroon.