Argo varsity football falls short against Evergreen Mustangs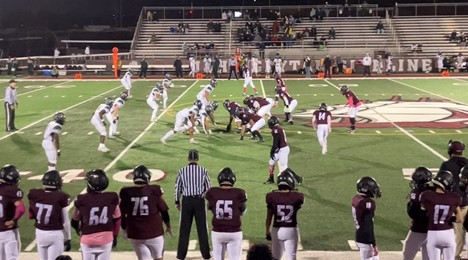 Thursday, October 20th, the Argo varsity football team went up against the Evergreen Mustangs in the last game of the season.
The crisp fall night started with the Stanger fall fest activities. While on the football field itself, senior cheerleaders, band players, poms team members, and football players were walking across the field to honor themselves and how far they had come. "It was very celebratory and necessary to represent the team's progress," said freshman Bryce Barnett.
Once all the seniors had walked across the field the real fun started. The band and drumline walked the football players onto the field to start the pre-playoff game. When the team was on the field, the band made a tunnel for the football players to pass onto the field.
Argo started strong with a good defense, but Evergreen was stronger taking a lead with a score of 0-15 ending the first quarter in Evergreen's favor. A memorable moment was when Davonte Evans made an excellent tackle against number 14 on team Evergreen.
The team still not doing the best after the first quarter trying to win back all those yards. Unfortunately, Argo could not come back in the second quarter.
"We had a big talk during halftime so after that talk, we went out and locked in and got our connection back and worked hard," Evans said in a recent interview.  
The halftime was an amazing performance led by the Argo Varsity and JV cheerleaders and finished off by the Argonauts Band. 
Within the third quarter, the Argonauts finally started gaining some points with it being halfway through the third quarter  (6-22). 
"After halftime, I came out and did my job and made 2 touchdowns and some catches to put some points on the board. I also got some yards so Johny could score," Evans had said.  
The fourth quarter was finally among us, and Argo was still losing with a score of 20-35, but catching up quickly.  
"The highest part of the game was us getting our first touchdown and kinda making a comeback, but we just couldn't do it," Senior Lavar Barfield added.  
With 3 minutes and 18 seconds left on the board, Argo trying so hard to make a comeback this game just wasn't in their favor with a score of 20-48. 
With a couple more touchdowns from Evergreen, the score takes a stagnant place at 20-54 in Evergreen's favor. 
As the clock ticks down, the Argo Varsity football team took a loss that day. Losing the senior night and pre-playoff game. 
The night ended with the team walking off the field, devasted about the loss but still as a team. 
"It's not the outcome that we wanted, but some things just happen for a reason. You kinda just have to move on from it," said Barfield.