Argo's Contest Play Puts a Spin on a Classic
This past Tuesday, Argo's Theater presented "Waiting for Godot" in the Performing Arts Center for this year's Contest Play. Initially produced in 1953 by Samuel Beckett, "Waiting for Godot" is a tragicomedy following two men, Estragon and Vladimir, as they wait for a man named Godot, who never comes, to arrive. As they wait, they encounter an oddball named Pozzo with his servant Lucky in tow.
Mr. Mamminga, Contest Play director and Argo English teacher, adapted the original work to present two high school students who wait for Godot to arrive to take them to a "March for Our Lives" protest. Pozzo enters on his way to a pride parade, dragging Lucky, carrying a bag full of protest signs, behind him.
Beyond the surface of the play lies a demonstration of a way to look at life\; how maybe everyone is merely waiting for their Godot – something to stir the pot of life, give them hope and a purpose in their everyday activities. While watching Estragon, played by junior Eliza Perkovich, and Vladimir, played by sophomore Emily Broniewicz, impatiently pass the time, it's easy to gather that life could be spent performing meaningless actions that serve to fill the void.
Argo's production was a thought-provoking, new age representation of how people in today's society aspire to see significant changes in America, but at times never get to see the changes implemented.
Perhaps the most entertaining of the bunch was Pozzo, played by senior Milo Casas. Bringing to the stage undeniable talent and showcasing a recognizable connection between the actors and characters, Casas helped fill the auditorium with laughter and truly brought the play to life.
With an innovative presentation, a fantastic embodiment of characters, and hints of comedy to keep the audience engaged, the show was a lively adaptation that kept the audience interested at all times.
Leave a Comment
About the Contributor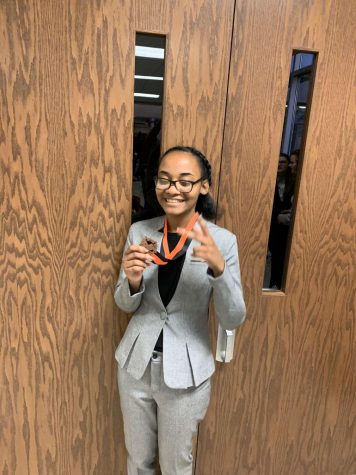 Anaiah Davis, Editor-in-Chief
Anaiah Davis is a currently a senior here at Argo. She is an AP/Honors student, a music lover, and of course, a writer. She enjoys spending time with her...