Golden Fleece Play Festival displays dramatic talent at Argo
The 2019 Golden Fleece Play Festival at Argo spanned two days and had nine original plays take part. Golden fleece is a student run play festival, where the students write, direct, and cast in their own plays about whatever they want. The variety show, a collection of different acts displaying a few of the many talented students at Argo, also occurred at the same time as Golden Fleece. 
 Of the nine original plays, "Toxic Kingdom", written by Alex Aluzas and directed by Kiersten Gardner and Natalie Krol, gave the audience a glimpse as to what the rest of the play festival will be like. "Toxic Kingdom" was able to make the whole audience laugh with its innocent jokes. The cast was made up of Tom Lindberg as the royal king, Alex Johnson as the queen, Mackenzie Casas as the spoiled prince, Rosalie E. as the chef, and Virginia Gibson as the joking jester. "Toxic Kingdom" was a tragic play about a disobedient jester that decides to poison the royal family, but his plan backfires and he gets sentenced to death. The play was one of a kind that includes many original puns. Of the assortment of jokes, the one that outlined the whole play was that the jester, referred to as "the fool", was too much of a fool to think of a plan to kill the king. 
One of the well written plays shown at Golden Fleece was about stereotypical high school students and a lonely ghost. Written and directed by Jelica Dimitrovski, "Haunting of the High School" was about a group of students stuck in detention together who meet a ghost and decide to befriend him and play tag. "Haunting of the High School" can be considered a far-off parody of "The Breakfast Club". The cast was made up of Jessica Hannion as "VSCO girl", Emma Proctor as a football jock, Mackenzie Casas as an edgy emo teen, Cinthia Romero as the standard airhead, and Donavin Wojtkiewicz as the lonely ghost. 
Kelsey Piche was one of the many variety show participants and actors at the festival. Piche sang "Can't Blame a Girl for Trying" by Sabrina Carpenter for her variety show act and played Casey in "Don't Open That Door", written by Andy Barba. 
In an interview with Kelsey about the Golden Fleece, she said, "being able to perform… and having fun with performing in front of everybody. It's a blast." 
Kelsey also talked about joining the thespian club stating, "Being a theater kid is a lot of fun because you get to meet a lot of new people when you're doing different plays. It's a great way to get involved with your school, especially if you're just starting out, like a freshman and you just want to meet a group of people that you want to stick with."  
Between plays came the variety show acts. Donavin Wojtkiewicz brought a classic to the stage doing magic tricks. Although most magicians show tricks, Donavin was a bit straight forward. He started with a simple card trick, but instead of an actual trick he attacked the magician community saying magic isn't real. He also attempted to pull a bird out of his top-hat, but this time a bird actually came out, but it was dead. Even though he didn't do any real magic, he still caused the auditorium to fill with laughter. 
Overall, the 2019 Golden Fleece Play Festival was a culmination of surprising and well written plays, all produced by Argo students. Next up from Theater will be the Contest Play in March, and the Spring Musical in April. 
Leave a Comment
About the Writer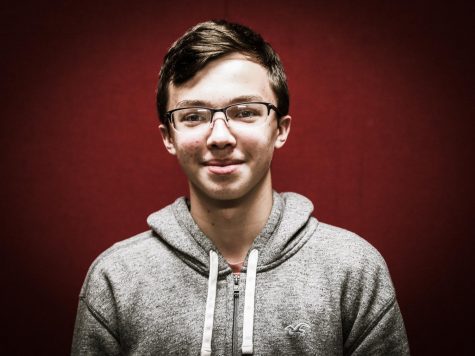 Adam Mateja, Staff Writer
Adam is one of the returning senior Maroon writers. On top of being a huge Nintendo fan, he also enjoys volleyball and playing the violin. Aside from the...