Pom Injuries: Behind the Scenes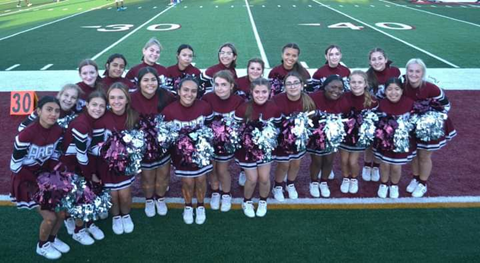 Argo High School pom's team are often known for their performative dances and their school spirit. However, underneath all that lies ACL injuries, torn menisci, and many bruises, which are some of the most common injuries the pom's team risks each time they practice and perform. Pom's varsity captain, Karen Flores, explains some of the injuries she has gotten due to poms.
"I pulled a ligament on my right knee. Then recently, last week, I don't know what happened, but my knee keeps popping out of place on my left knee," Flores said in an interview.
Flores went on to say how her injuries had been affecting her in her daily life. She had even reported her injuries to her coach, who was in the middle of being interviewed on the very topic of pom injuries. Pom's varsity coach, Dawn Palmer, has had her fair share of witnessing injuries in her days of coaching.
"In the past, I had a couple of girls tear their ACL, and meniscus, so knees are often injured because we do a lot of floor work," said Palmer.
ACL (anterior cruciate ligament) injuries sometimes need surgery or physical therapy as a form of treatment. As a result, these injuries have also impacted teammates personally. Having been a coach for quite a while, Palmer talks about one situation in where a former student was injured. She spoke about how it affected her as a coach as well as the girl.
"Personally, it hurts," said Palmer. "She was on the team for four years and I think it happened in October. She was out the entire season, so she didn't get to participate. It's hard to take after working so hard for three years.
Flores also had her fair share of seeing teammates being impacted by their injuries. She expressed her sadness for teammates who were injured and explained how the pom's dedication to come to practice despite injuries have also affected her colleagues.
"Poms is such a big commitment," Flores stated. "You still have to go to practice and all that even if you're injured, but not do anything, and it's very sad watching everyone get to do what you love most and you can't do it."
Not only do injuries affect the team personally, but injuries also affect the team's hours of practice. Palmer explains how it's not that easy replacing an injured student compared to other sports.
"If someone is out in basketball, they can put somebody else in there and continue to play the game. If somebody is out on the poms team, it will cost us hours of work to change the routine and put someone else in that spot. So, injuries affect us in a huge way," Palmer stated.
It appears both coach and captain agree that injuries affect poms in both demanding and personal ways. However, Flores was more vocal about this problem. Throughout the interview, Flores expressed her frustration for the lack of notice in the team's demanding work.
"It's frustrating because I know a lot of people say that poms isn't a sport, but it's the most like serious sport I've ever done in my life," Flores revealed. "I really want them to understand what it's really like to be, not just like pretty faces on the football field dancing. There's a lot that goes into it and so much work that goes into it."
Palmer also acknowledges how some students don't see this grueling side of poms. When asked about those who do not see pom's challenging work and serious risks, Palmer responded, "Come to a practice and see what they can do. Don't underestimate them, they work hard, and they get hurt doing it just like every other sport."