Sectionals coming up for the girls' varsity tennis team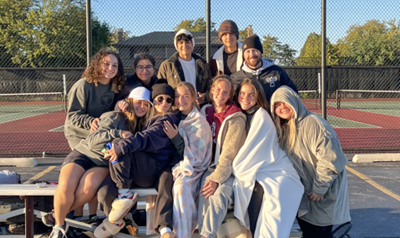 The IHSA Tennis championships are coming up this month. However, the Girls' Varsity Tennis team must first qualify by winning one match at sectionals happening on Friday, October 14 at Lyons Township. Even so, the team's coach, Taylor Loux, is thrilled for his team.
"Just excited for it you know. I think that this group of girls has been a real joy to coach," said Loux. "I am very lucky to have this group and I am looking forward to see them play to their potential."
With that, Loux has been trying to prepare the team for sectionals. Even noting that it is something they've have been working on for a long time. In addition, he expressed his belief that the team is ready to go against tough competitors. Even one of the tennis captains, Veronica Krzysiak, acknowledges the strong competition.
"I'm pretty sure everybody is nervous but at the same time feeling excited, but we are also aware that we are competing against challenging teams," said Krzysiak. "We really must have a good mindset going in and playing our hardest to win this and not being intimidated by the opponents."
Krzysiaks went on to say how much she appreciated Loux's hard work, saying, "I'm also thankful for my wonderful coach, Mr. Loux, and his hard work and input for making me a successful player."
Another captain of the girls' varsity tennis team, Ewelina Dabrowski, also conveyed her excitement for sectionals and admiration for coach Loux.
"Coach Loux has been pushing us to do our best and that's just what we will do at IHSA sectionals," said Dabrowski. "Overall, I can't wait! It'll be challenging but a great match to play!"
Both captains seemed to have a positive outlook on their game Friday. Dabrowski even saying, "all my teammates have a good shot at a championship. I have seen how hard all of them worked and I'm so proud of each and every one of them."
It's clear through their words, the team has worked very hard for this. Even with all the competition, the coach and captains all seemed eager and prepared for sectionals and potentially even the state championships.
"I am proud to represent the tennis team and my school as a whole! It's a really great way to end my senior year," said Krzysiak. "We are going to practice harder and make it farther than we have before and make it another successful win for our team."