Tie breaker: Argo vs. Reavis soccer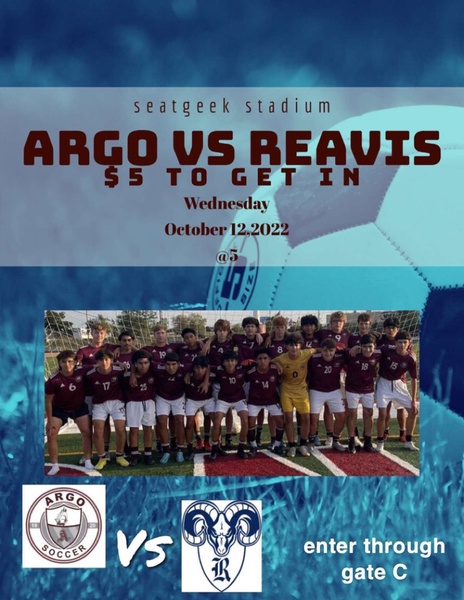 Argo Soccer is playing against Reavis at Seat Geek Stadium on Wednesday, October 12 at 5:00 pm. Last year, Argo and Reavis ended in a 2-2 tie. Will Argo come out on top this time around?
Michal Gacek, a varsity soccer player at Argo Community High School, thinks so. "I am almost certain we will win this year. We have been working hard at every practice. We're going to be focused and ready."
For soccer players at Argo, this is a big game. They will be playing at a professional stadium, the same one as Chicago Fire. Last year's game had a great turn out with almost 300 students from Argo and Reavis. The rivalry between the two schools created a lot of hype. Last year they tied 2-2.
"I felt excited, and I was nervous. I was nervous because it was a rivalry game and I've never played in a professional stadium before that. I felt like a professional because we walked out of the tunnel and everything, and it was so much fun," said Gacek.
If you have ever attended a professional game the game last year was exactly like it. Almost everyone who attended loved the game. The players had a great time playing on that field and environment.
The game was exciting not just for the players, but also fans. Mary Villalobos, a senior at Argo, recalls last years game, "It was so entertaining. I loved seeing the school spirit."
Villalobos was never much of a soccer fan, but the Reavis game last year awoke something new in her. "I think I lost my voice after that game." Whether it was because of the stadium itself or the rivalry against Reavis, the game was one to remember.
"I was pumped up because it's our rivals and I'm even more pumped this year because this will most likely be my last time playing in a stadium," said Gacek.