A New Argonaut In Office: Meet Dr. Covino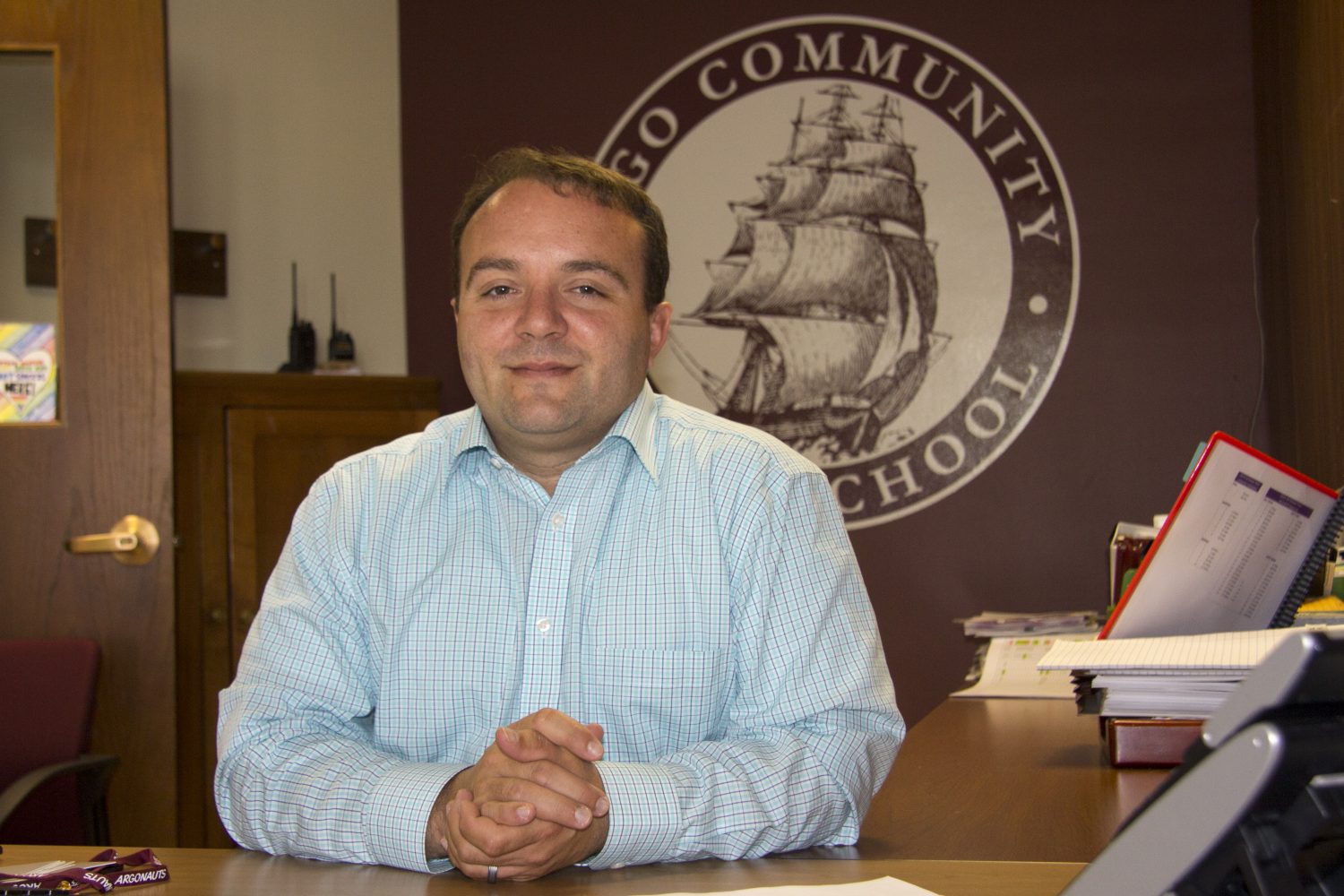 Estrella Salgado
January 1, 2017
By: Estrella Salgado
If you're looking for a person at Argo with equal parts progressive vision and school pride, then look no further than our principal's office. On December 14th, I got a chance to talk with Argo's spirited new leader, Dr. Chris Covino, about how he's settling into his critical role at our school.
Years before Dr. Covino donned maroon and white, he received his Bachelor's in English Education and a Master's in English at UIC. He then graduated with a PhD in Educational Administration and Endorsement from Aurora University in 2013. Dr. Covino went on to become an English teacher at Neuqua Valley High School and a Division Head for Language Arts at Community High School District 94 before working at York High School in Elmhurst as an Assistant Principal for Curriculum and Instruction.
When asked about what attracted him to Argo, Dr. Covino smiled and rattled off a long list of Argo's fine qualities, among them a diverse student body, tradition since 1920, and an interesting location. He chuckled, saying, "I tell everyone that Argo is the most urban-suburban school that I've ever been to." Our proximity to Chicago, while still being a working-class suburb, does indeed create a unique cultural background. Dr. Covino also gave a shout-out to Argo's wonderful teachers for being so committed. "I know that we wouldn't be a US News school if it wasn't for our teaching staff," he explained. "I appreciate everything they do to make Argo a great learning environment."
Of course, Dr. Covino is also striving to make Argo an even better place to grow and learn. This educational enthusiasm was palpable when he picked up a heavy pair of silver dice off his desk. "These were given to me at the tech fair by the Machine Technology class. Aren't they great?" he marveled, turning them over in his hand. "I want every student to be able to create something at Argo, whether it's in welding or English or chemistry, that makes them proud of what they've learned." He is also planning on making structural changes to the curriculum by streamlining the Guided and Standard levels to motivate students to do their best.
As we concluded our conversation, Dr. Covino beamed and shook my hand. "I love being here," he said. "I wouldn't have it any other way—great job, great staff, and great students." What needs to be added to that list is "great principal." We wish Dr. Covino the best of luck in his management of the home of the Argonauts.