How to Make Homemade Russian Pierogis from Scratch 
I was never interested in cooking. I made the occasional meal for my family, but it never went further than that. After I made these homemade pierogis though, I feel really drawn to cooking. I hope that this recipe can make cooking as fun for you as it was for me.  
Ingredients: 
3-4 large potatoes

 

Salt

 

Pepper

 

Farmers cheese

 

Onions (as many as you'd like)

 

Flour

 

An egg

 

Water

 

Butter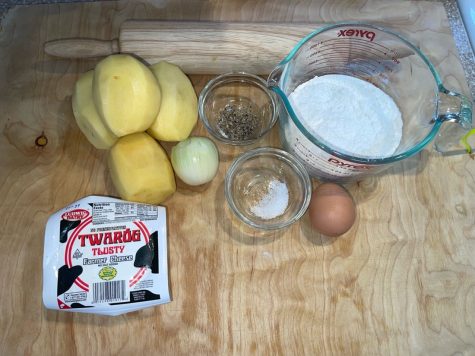 Step One 
Wash, peel, and cut your potatoes. Then put them inside of a pot full of water and set the temperature for medium heat. Once the potatoes are soft, then mash them and put them in a bowl.  
Step Two  
Peel your onions, dice them, and place them into a pan with butter. Set the pan for medium heat and cook them until they start turning golden. 
Step Three 
Add ½ tbsp salt, ¼ tbsp of pepper, ½ lb. of farmers cheese, and your cooked onions into the bowl of mashed potatoes. (*Make sure your onions aren't too hot.) Mix it all together and then have your pierogi filling. 
Step Four 
Now to make the dough! Place a little bit less than 2 ½ cups of flour onto a cutting board. (I recommend making a circle out of your flour, so the other ingredients don't go anywhere.) Add your egg into the flour and carefully mix it in with your hands. Slowly add about ½ a cup of lukewarm water into your mixture. Your dough should be clumpy. Knead your dough until it has a smoother texture. If it's still sticky I recommend adding more flour. 
Step Five 
Use a rolling pin to flatten out your dough. Once it's flat, cut out circles using a baking stencil, or a cup is fine.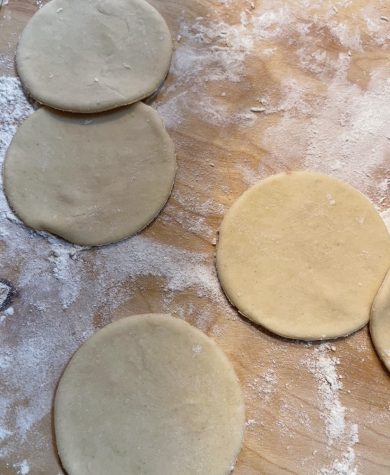 Step Six  
Put in a small spoonful of filling onto one of the circles of dough. Pinch the edges of the dough together to form something that looks like a moon crest. Make sure to pinch tightly and near the filling. If you don't your pierogis will pop during the boiling process. Sift some flour on top of your raw pierogis so they don't stick together.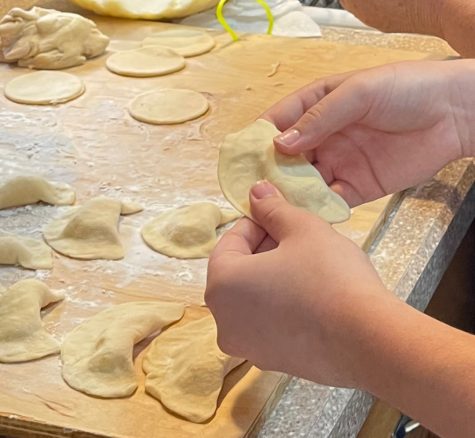 Step Seven 
Heat up some water on medium-low heat. Once small bubbles start to form, carefully place your pierogis in the pot. You'll know when your pierogis are cooked once they begin to float in the water. Let them float for about 30 seconds and then take them out.  
Final Product 
Your pierogis are now done. You can put sour cream on top or even add more cooked onion.  
There are a ton of variations of pierogis and luckily with this dough recipe you can basically make any kind. My favorite fillings so far include this potato one and a strawberry one. (A pierogi as a dessert!) 
Making these pierogis was super fun. Especially getting messy when making the dough. I hope you liked this recipe as much as I did. Enjoy!