I Experienced the Mamie and Emmett Till Memorial Unveiling – And It Was Beautiful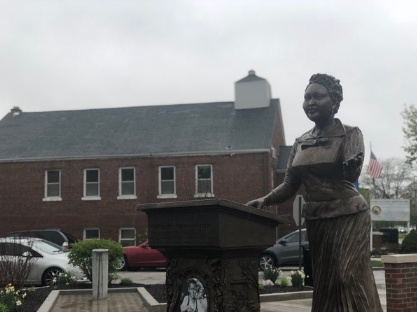 On April 29th, 2023, Argo Community High School presented the Mamie Till-Mobley Dedication. This statue stands tall on the north side of the building on 63rd Street in Summit, Illinois, and the event culminates an immense effort to pay homage to the lives of Emmett Till and his mother.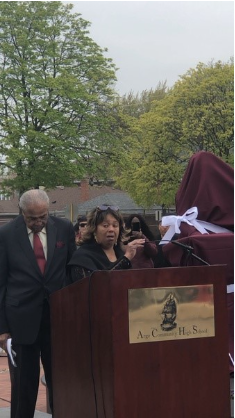 Being immersed in the case of Emmett Till and the legacy of Mamie Till-Mobley since the age of ten, this was a very emotional must-see. I am unsure how I first found out the story, but what traumatized me to the point of needing to spread awareness and tell the story of Emmett and Mamie Till – was the photograph of Emmett Till in his casket, his face swollen to a high extent and his injuries being horrific for the Chicago residents that attended his funeral. This woke up the eyes of a sheltered naive person like me back then, knowing of racism but not even close to the true reality of racism.  
And that reality was unleashed with a burning and seeping hatred in a shed in the Delta. A reality unleashed – on a fourteen-year-old boy.  
 The next pieces of writing are split up into segments, breaking down the event in chronological order for better interpretation of a merging of an informal report of the memorial, as well as my personal experience and thoughts.  
My sincerest condolences go out to the Till family and my highest respects to twelfth superintendent William Touillos, professional sculptor Sonja Henderson, Alexa Edwards, and whoever else was an imperative part of the Mamie and Emmett Till ceremony.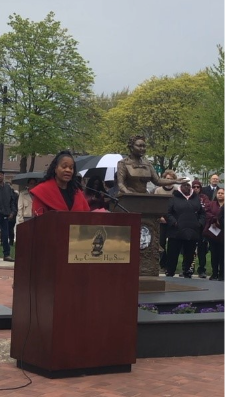 My experience, the unveiling, and the family's remarks – made the overall experience beyond emotional.  
I came forty minutes late past the deadline, 10:40 to an expected 10:00 arrival. My designated Uber took shortcuts and turns around the Summit neighborhood due to police and staff blocking the main entranceway.  
I had a job to do – report on the memorial and compile this into an article for The Maroon. But for the first 30 minutes of the memorial, I would leave the memorial with tears streaking down and a whole other level of respect for Argo Community High School. 
As the Uber finally dropped me off and I exited the car, elders and even children of the neighborhood started to walk the pathway to the unveiling. I had never seen the people before, considering I was not a Summit resident and underestimated the amounts of people garnered here.  
I made my way to the memorial and saw a co-writer of mine for The Maroon, Jacob Hatlas. Relieving to see a familiar face as he and I decided to collaborate on the report.  
As I continued the path, I had two aims in mind: Look at this memorial from the perspective of a journalist and report as needed, but also look at this as not only a powerful and monumental event for the people that came, the Summit residents, students – but for the Till-Mobley family.  
The Till-Mobley family has been left in a horrific state of grief for over 60 years – since the gruesome torture murder of fourteen-year-old African American Emmett Till.  
While visiting extended family in Money, Mississippi from his home in Chicago, Till was accused of a wolf whistle to white female cashier Carolyn Bryant Donham. This led to her half-brother and husband, J.W. Milam, and Roy Bryant kidnapping Till from his uncle, Mose Wright's home, brutally beating, torturing, and murdering Emmett with a gunshot wound to the head in August of 1955. His body, found in the Tallahatchie River, was completely unrecognizable. The injuries that I will not list, combined with the number of days Till was submerged in the water, created a disfiguring and horrific state of decomposition. The only way the boy was able to be identified was by his father's ring that he left behind after being killed in Italy for a rape and murder charge while serving in the Army.  
His mother, Mamie Till-Mobley, after receiving his mutilated body in Chicago, fought endlessly and insisted on an open casket funeral, showing the world what not only happened to her son, but showing the world the reality of stories for many other families that had their child, friend, or significant other taken in such a savage way. These families did not have the chance to show the world what they saw, but Mrs. Till-Mobley made it known by hers.  
This single moment which culminated in a 50,000+ funeral attendance for the beloved Chicagoan, defined and sparked the Civil Rights Movement itself and certified Mamie Till-Mobley as an icon, leveling her with the works of Dr. Martin Luther King Jr, Malcolm X, and Rosa Parks. 
Both Bryant and Milam were responsible for the murders but were acquitted. Milam died of cancer in 1981 and Bryant the same in 1994. 
Mamie-Till Mobley was an honor student at Argo, distinguished alumni and was the fourth Black student to graduate from Argo. Mamie advocated constantly for her son up until her passing in January of 2003.  
As I made my way through the crowd and stood on the walkway before the remarking, his cousins were the first thing that caught my eye. Reverend Wheeler Parker Jr. was the first.  
The last living witness to that fateful Mississippi night.  
Wheeler Parker went with Till on his trip to Money and was present in the house when the two white men took Emmett. His last moment with Emmett. He was also there for Emmett's funeral and described it as the disfigured corpse in the casket not being "Emmett" and that he was certain he would see his friend again. He was certain he would see him again.  
Looking at a man who endured that grieving experience is something I would remember for the rest of my life. But Parker did not seem heartbroken or hold his head down, but rather at peace. He greeted everyone with a smile and proper manner. I looked at him in admiration as I felt choked up. This man suffered, endured, grieved, and he still held his head high.  
As I looked on, I could not gather the courage to speak to him, afraid of stammering and afraid of asking questions about his experience of his friendship with Emmett. But as I write, I send that man my greatest condolences and respect as you continue your journey with Christ and remember your best friend for who he was.  
We settled down and Ollie Gordon was the second.  
Ollie Gordon, the president of the Mamie Till-Mobley Memorial Foundation and Vice President of the Emmett Till and Mamie Till-Mobley Institute, was a composed woman and in my eyes was a strong woman. She was with Mrs. Till-Mobley when they received the call that Emmett's body was found.  
My goals for the article report had started to disappear as I just wanted to have a conversation with Mrs. Gordon. This was a déjà vu moment, due to her also being present at the Cliff Dwellers Club for another memorial for Mrs. Mamie Till-Mobley. And I, swarmed with tears, in this present moment, could just not do it.  
But the same remark for Reverend also goes to you, Mrs. Gordon.  
Thelma Wright spoke – and it broke the crowd.  
After an amazing musical performance by the Argo combined choir, twelfth superintendent William Touillo's regards and condolences to the family, and a few more guest speakers – the family walked towards the podium. They stood beside the statue which was wrapped in Maroon and white ribbon, only fit for Mamie's life and educational legacy at Argo.  
One family member that broke not only the crowd but me as well, was Mrs. Thelma Wright – second cousin of Emmett and daughter of Moses Wright. "This is one of the happiest days of my life," she continued. She walked up to the podium, aided by Jon Leonard and Reverend Parker. Speaking softly, she verbally reminisced on the legacy of Mamie.  
The statue was unveiled and my tears poured out immediately. 
As sculptor Sonja Henderson, the center of the entire process, walked to the statue with Reverend and Mrs. Ollie Gordon to unveil the statue I could feel more tears circling. The closer she got to the statue, the closer the breakdown got.  
As she finally pulled away the ribbon and unveiled the statue, a unison clap from the crowd emerged, and so did my tears. Tears desperately struggled with the silence of the crowd before the unveiling was finally let out. The statue weighing approximately 850 pounds, was decorated in bronze material. It upheld a lifelike model of Mamie and was modeled after a real-life photograph near the home where Mamie and Emmett once lived – now a historic landmark.  
On the bottom of the model was an oval picture of Emmett riding his bike in the Summit neighborhood, the same one in the back of where the school is located.  
The interviews were one of the hardest parts. 
As the unveiling wrapped up and Mr. Touillos stepped back up onto the podium to close out the ceremony, I reminded myself that my first aim was still in mind; conduct interviews for The Maroon.  
Timothy Prince, Argo's head of security was one of the easier options due to my comfortability with talking to the man. A single head nod and fist bump from his initial positive approach turned into conversations about future aspirations and dreams, problems, and issues with the school and what can be fixed. When we settled into Argo's Old Auditorium, I asked him about his overall thoughts on the statue.  
"Every day that I come to school here I'm going to think of Ms. Henderson over here, think about her work, and what has all come together in this community with the start of the Civil Rights Movement – it's a beautiful thing," Prince said.  
As I continued conducting the interviews, Sonja Henderson was next. The main attraction that will forever be cemented as an icon.  
To me, Sonja Henderson will forever be one of Argo's icons. I had previously collaborated with her as a volunteer for the Mamie Till-Mobley Memorial, creating and designing hats with photographs and/or designs that were dedicated to Mamie and Emmett. When another memorial came around, I signed up again, unaware that it was a statue unveiling.  
Piece by piece, I continued to seek more out of the process via social media. My gratitude for Mrs. Henderson is prevalent and always will be. Henderson was busy – showered with praise from a large margin of residents of Summit, staff members, parents, children, and the Till family. I met back up with Jacob, and we both wanted to speak to the woman fashionably perfect in her orange dress and jewelry. When she was all through, she approached smiling ear to ear. I could only imagine and assume that this was one of the best days of her life.  
I asked Jacob to set up a camera and record a moment I deem historical and monumental for not only Argo, but for Henderson's legacy. The first question I asked was – what her thoughts were on the passing of Mrs. Carolyn Bryant Donham? 
The woman at the center of Till's murder ironically passed away a day before the unveiling. Henderson shared her relief at the timing of the unveiling and Donham's death, being that the statue can stand tall without malignancy or negativity from the woman who started it all.  
"We no longer have to deal with her heavy negative energy," Henderson said. "I am happy with the timing of the unveiling of the Mamie Till memorial because it is all truth and now it is being its glorious self with no shadows around it." 
While Henderson worked on this dedication, she envisioned future generations taking away a deeper message as they looked upon the statue at the front of Argo Community High School.  
"They should see Mamie Till moving forward in reconciliation and love and honor and courage," Henderson said. "I really wanted this to be the most incredible vision of Mamie Till in her courage, in her beauty, in her sophistication, in her intelligence, and in her kind and loving nature." 
Christopher Benson was a miracle pick. He was the third interviewee.  
Jacob and I exited the Old Auditorium, hungry and seeking out more interviews from anybody at this point. Traveling floor to floor in the hallways, we came upon a miracle pick – author and journalist Christopher Benson. Holding a coffee and Auditorium plate in hand, Benson explained his correlation with Mrs. Till-Mobley.  
Benson worked with Mamie Till-Mobley the last six months of her life, creating a biography named "Death of Innocence," highlighting Mrs. Till-Mobley's first-person storytelling of her fight and battle after her son's death. In his words, "to make sure that her story would live on beyond her."  
"We didn't know she was going to go so soon, but it was up to me to carry on and keep the story alive. It changed my life." Benson stated.  
Benson, a journalism teacher at Northwestern University, spoke on the effect of his experiences as a journalist. The story of Emmett Till, the importance of factuality, and trying to dig deeper for a better meaning within the story.  
Final thoughts and closing regards.  
The story of Mamie and Emmett Till has been an echo throughout American history. Photographs documenting a mother's agonizing grief, a son's battered body, and the horrifying and ongoing actuality of racial tension. I would like to give my greatest thanks to Argo Community High School for cementing the Till legacy forever, along with the spectacular sculpting of Mrs. Sonja Henderson and collaboration of Alexa Edwards, the words of William Touillos, Illinois senator Kimberly Lightford, Reverend Wheeler Parker Jr., Ollie Gordon, Thelma Wright, interviews from Head of Security Timothy Prince, and author Christopher Benson. 
Special thanks to my co-writer from the Maroon, Jacob Hatlas, and my Honors Writing teacher Mr. Michael Rojas for planning this out and making this all happen. Amazing job and thank you for everything. My highest condolences once more, to the family of Emmett and Mamie Till. May they rest in peace and power, and may we find closure and spread awareness for the legacy of Mamie and Emmett. 
"God told me, "I have taken one from you, but I will give you thousands." 
Mamie Till-Mobley