Teens cross country: body regulations, physical and mental.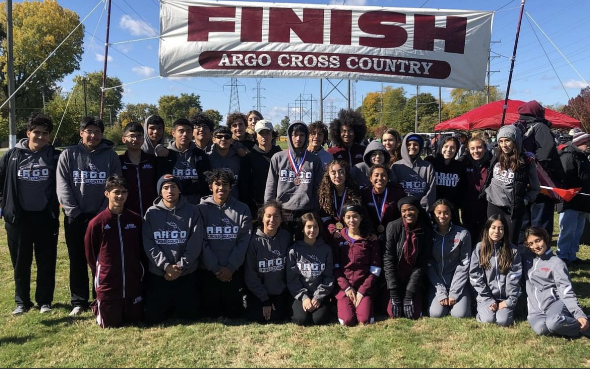 "…I know it took me at least 4 meets to break 26 minutes just because the state of my mind"- Kameron Doss, Junior Girls Cross Country runner.
Since the 2022 Argo cross country season ended, 2 people on the team have been interviewed and they said what it takes to perform up to par.
Cross country would be seen as one of the hardest sports by many. Having to run at the same pace for 3 or more miles can be an impossible task for the average person. But would that race be more of a mental task than a physical one?
"A huge mental aspect. You can be a better runner than a good amount of people in a race if you embrace a good mindset"- Aaron Lopez, Senior Boys cross country runner
Lopez talks about keeping a good mindset by embracing it and thinking of things that motivate him and keep him pushing.
Sometimes your mentality will hold you back, while some Athletes don't let their mindset get a hold of their performance, others do.
"Yes, cross country is just as mental as it is physical. If you don't have the right mindset going into a race, it may not end well for you. Some runners get mental blocks that last almost the whole season…"- Kameron Doss, Junior Girls Cross Country Runner
A mental block in sports is where a psychological obstacle prevents athletes from performing at their peak level or prevents them from performing a specific skill. This can cause the player/runner in question to be overly emotional and/ or easily frustrated. And in some cases, participants will completely avoid practice or games.
In a sport like cross country or track. The amount of management that you need to have on your body is way more compared to the average person. Avoiding certain things like knowing their limits, warming up properly, and staying hydrated is just more responsibilities that athletes have over your average person. This can bring certain types of stress especially if you're not performing up to par.
"It's actually very easy to get out of shape when you're not training properly. It takes 14-23 days for the average runner to lose all progress from months of training" -Doss
Getting out of shape is the first stage of an athlete losing passion for their specific sport. Mental blocks have the power to do that. Even for the above-average athlete.
"I can't speak for every runner but feel like being anxious or irritated before a race is just a part of running as a whole. Because most times, you're thinking whether or not you'll PR or if coach or your parents will be mad depending on your performance."- Doss
A lot of runner's mental block because they set a standard for where they will always progress, which can cause them to come down on themselves.
When you are in a mental block, address it and find people and things that can help you get out of the slump. Athletes should also research certain issues because the resolution may be on the internet.
"We should all take mental health seriously and do our best every day to make sure we're taking care of it."- Lindsey Vonn, American alpine ski racer