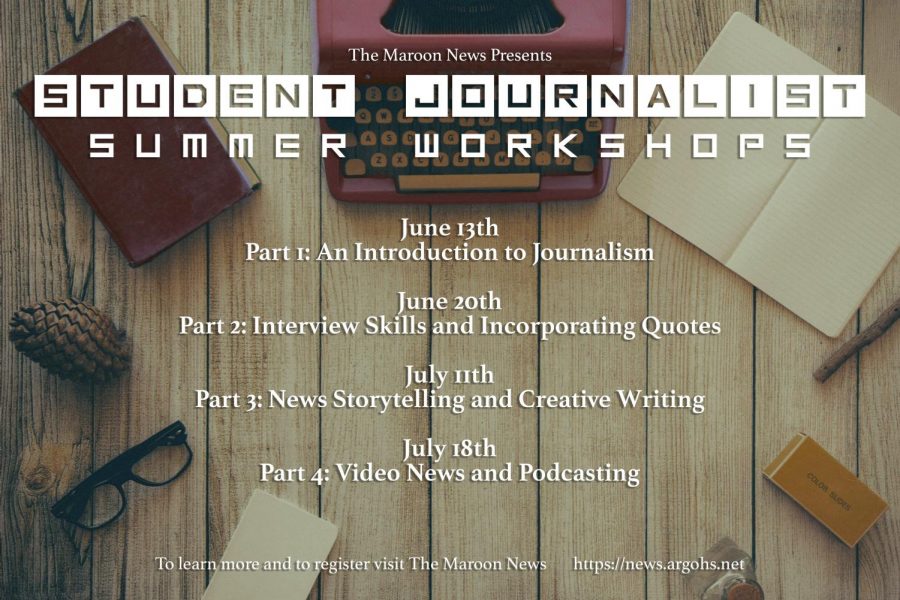 The Maroon News presents a series of summer workshops designed to teach students important elements of being student journalists. The workshops are designed by Maroon Alumni and Rachel Burke, Assistant Editor for The 'Burnian (Blackburn University), and Madison Krzos, Video News Producer for The Vidette (Illinois State University), and will run from 1:30 p.m. until 4:30 p.m. on select Thursdays over the summer:
June 13th – Part 1: An Introduction to Journalism
June 20th – Part 2: Interview Skills and Incorporating Quotes
July 11th – Part 3: News Storytelling and Creative Writing
July 18th – Part 4: Video News and Podcasting
The workshops are sequential and will build towards a final project, so it is recommended that students attend all dates. Students must be enrolled at Argo Community High School for the 2019-2020 school year to attend. To register, click here, registration closes June 11th at midnight. For questions or concerns contact Nicholas Berrios at nberrios@argohs.net or 708-467-5856.